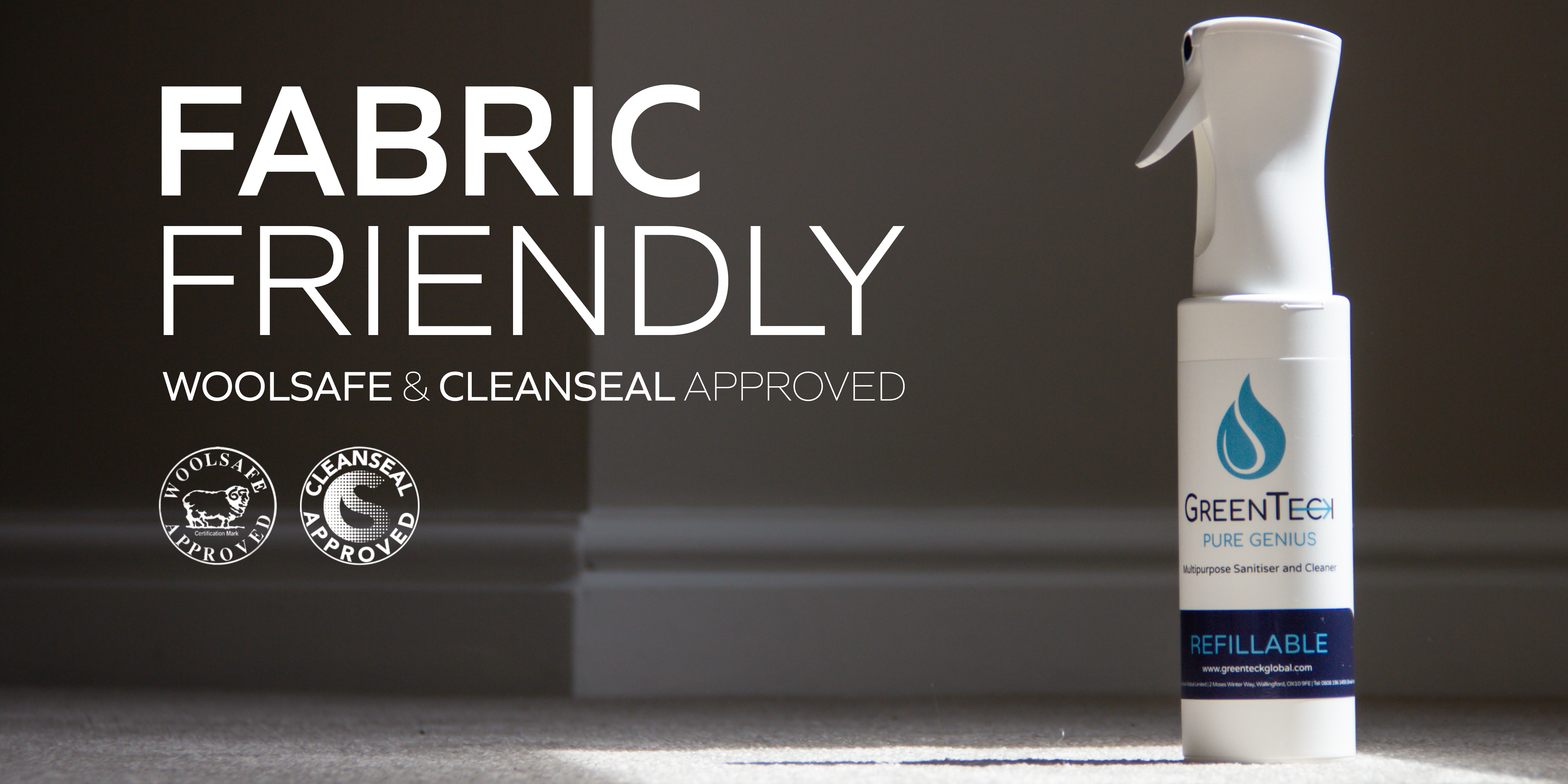 GreenTeck Global has secured an agreement to use the internationally-recognised WoolSafe and CleanSeal marks on its 100% natural Pure Genius disinfectant following rigorous independent testing.
The accreditation means GreenTeck Global's eco-friendly multipurpose sanitising solution is certified in line with The WoolSafe Organisations stringent standards, and safe to use on all
fibres, including wool, synthetic fibre carpets and rugs, plus furnishing fabrics. In particular, it means the solution is considered a WoolSafe, Green WoolSafe, CleanSeal and CleanSeal Environmental Approved Product worldwide.
Part of the hygiene technology innovator's popular AquaTeck range, the innovative all- purpose cleaning product uses the naturally-powerful sterilisation and odour-destroying properties of Hypochlorous Acid (HOCl). Provided in a range of eco-conscious packaging, and dispensed from cost-efficient refillable spray bottles, the environmentally-friendly, COSHH-free liquid is safe to use and around 80 times more powerful than bleach.
Both GreenTeck Global and The WoolSafe Organisation hope the new kitemark will reassure organisations across a diverse range of sectors, from care homes to hotels and restaurants, that there is a green alternative to effective carpet and rug care. With the certification widely recognised as one of the highest standard for carpet care excellence, the companies also hope the move will encourage more organisations to consider the green power of 100% natural cleaning products when evaluating their maintenance requirements; a move away from traditional chemicals that will benefit customers and employees alike.
David Thurston, founder and CEO of GreenTeck Global, said:
"It's never been more important for companies to balance the highest hygiene levels with a planet-friendly approach to the way they clean. This recognition is a major step in helping organisations understand there are cost-effective ways to swap harmful chemicals for more eco-conscious approaches, without compromising on safety or sustainability.
"We know from our hospitality customers – such as the Crieff Hydro family of hotels in Scotland, who switched to our natural cleaning solutions last autumn – that minor changes can make a massive difference to a company's sustainability credentials. We hope that this new accreditation will help give more organisations peace of mind that not only does GreenTeck Global understand the importance of protecting expensive fabric investments, but we're also committed to helping them find cleaner, greener and safer ways of doing business."
To find out more about GreenTeck Global, visit www.greenteckglobal.com.
–